This page my contain affiliate links. Please read our disclosure page for more information.
If you're looking for a new cryptocurrency exchange, you may have come across FTX.US. In this review, we'll take a look at what FTX.US has to offer investors. We'll cover the basics of the exchange, including its fees, security features, and supported cryptocurrencies. Whether you're an experienced investor or just getting started in the world of crypto, this review will help you decide if FTX.US is the right exchange for you.
What is FTX?
FTX is a crypto exchange that allows you to trade a variety of cryptocurrencies, including Bitcoin, Ethereum, Litecoin, and Bitcoin Cash. They have a user-friendly platform with a variety of features, such as stop-loss orders and margin trading. The exchange uses a maker-taker fee model, with maker fees ranging from 0% to 0.02% and taker fees ranging from 0.06% to 0.1%. They also offer 24/7 customer support in case you have any questions or problems.
How does FTX work?
First, you must create an account on the exchange and deposit funds into their account. Once your account is funded, you can begin buying and selling cryptocurrencies. FTX charges a small fee for each transaction. You can also often connect account to a bank account or credit card, allowing them to easily deposit or withdraw fiat currencies.
FTX US Exchange Features
Trading
The core feature of FTX is its Crypto exchange platform. It allows users to trade over 23 cryptocurrencies at lighting fast speeds. Some of the supported assets include:
BTC (BTC/AUD, BTC/EUR, BTC/USD, BTC/USDT)
ETH (ETH/AUD, ETH/EUR, ETH/USD, ETH/USDT)
BCH (BCH/BTC ETH/USD, ETH/USDT)
BAT(BAT/USD)
LTC (LTC/BTC LTC/USD, LTC/USDT)
SOL (SOL/BTC, SOL/USD, SOL/USDT)
YFI (YFI/BTC, YFI/USD, YFI/USDT)
FTX US Exchange Fees
Trading Fees
FTX operates its fee structure in a tier system. The more volume that you trade the less fees you'll have.

| | | | |
| --- | --- | --- | --- |
| Teir | 30 Day Volume | Maker Fees | Taker Fees |
| 1 | 0 | 0.10% | 0.40% |
| 2 | >100k | 0.08% | 0.30% |
| 3 | >500k | 0.06% | 0.20% |
| 4 | >1m | 0.05% | 0.15% |
| 5 | >5m | 0.04% | 0.10% |
| 6 | >10m | 0.03% | 0.08% |
| 7 | >15m | 0.02% | 0.07% |
| 8 | >30m | 0.01% | 0.06% |
| 9 | >50m | 0.00% | 0.05% |
(K = Thousands  – M = Millions)
Transfer Fees
Wire Fees
FTX does not charge fees for inbound wire deposits. The first withdrawal wire under $5,000 will not have a fee per week. Any other withdrawal wire there after in the same week will have a $25.00 fee. Any withdrawal over $5,000 will not be charged a fee.
ACH Fees
There is a $0.50 standard fee for ACH deposits. The fee will be waived on your first deposit and any deposit over $100.
Crytpo Fees
FTX offers zero fees for depositing crypto into the platform and will pay any blockchain fees (except ERC20/ETH and OMNI) for withdrawing.
FTX NFT Market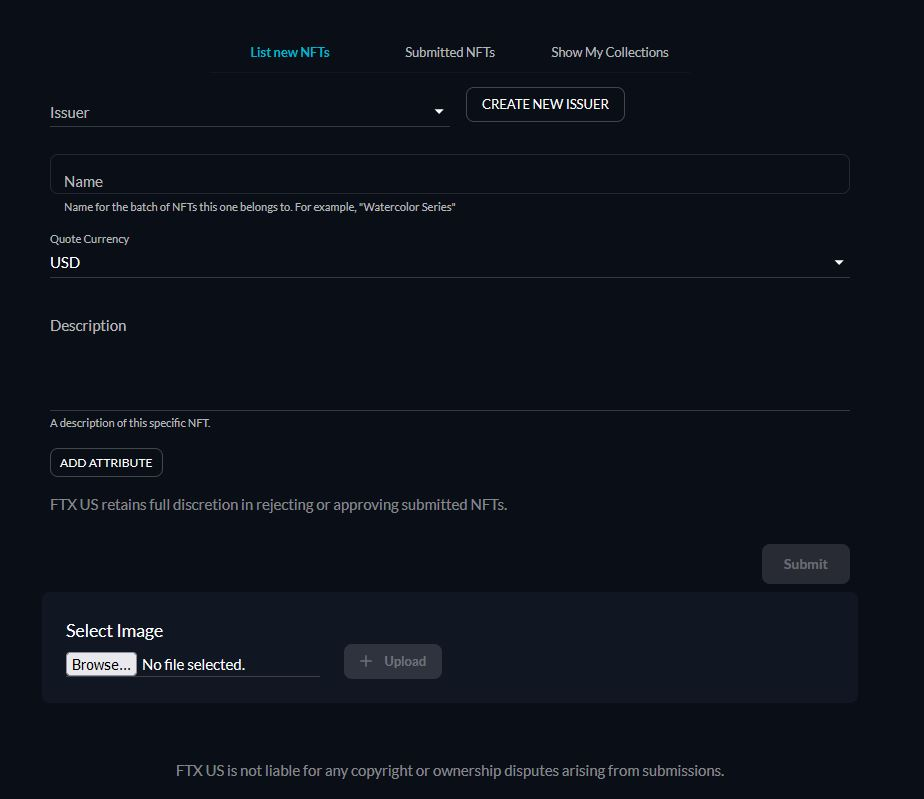 FTX is one of the only crypto exchanges that has an NFT marketplace. This is where users can buy and sell their blockchain backed digital artwork. FTX charges a 2% fee to the seller on each NFT sale or trade. Users can mint NFTs with ease in the marketplace. There is a $1.00 fee for each NFT that is minted.
FTX Debit Card
The FTX debit card is a new type of debit card that allows you to spend any currency you have in your FTX account anywhere Visa is accepted.
No fees for sign-up or transactions.
$10,000 per day and $50,000 per month limit
$1,000 per day ATM withdrawal
The card allows you to load your account with Bitcoin, Ethereum, or Litecoin and then use it just like any other Visa debit card. This makes it easy to use your cryptocurrency to make purchases online or in stores. There are currently no fees associated with the debit card.
VIP Program
The FTX Exchange VIP Program is a program that offers exclusive benefits to traders who hold a VIP account. Some of the benefits of the FTX Exchange VIP Program include:
Lower Fees
Priority Account Manager
Exclusive swag and access to VIP meet-ups
To become a VIP trader you need to either have a 30-day trade volume of at $150,000,000 or a 30-day maker volume of at least $40,000,000.
FTX Referral Program
Currently FTX has a 5% discount on trading fees for new users. Use our exclusive sign-up link, https://getloot.io/go/ftxus, while this referral program is running.
FTX Security and KYC
FTX treats cyber security as it's highest priority, so users can trust that their digital assets are secure. There is a variety of undisclosed back end features that the exchange utilizes to maintain a secure platform. On the front end users will have to use complex passwords and have 2FA setup before performing any transactions.
If any unusual login attempt occurs on an account the account holder will be notified via email. Users can setup whitelisted withdrawal wallet addresses. These wallets will be the allow ones you'll be able to send withdrawals from. For any medications to the list or to disable the feature users will have to contact FTX customer support.
As a regulated crypto exchange FTX must adhere to KYC (Know Your Customer), to comply with US Federal standards. During the sign up and verification process FTX will have to collect a series personally identifiable information. This is to prevent fraudulent transactions and money laundering.
FTX Customer Support
FTX exchange customer support is great. For any support issues, you can submit a ticket on their support portal or reach them on telegram. They're quick to respond and help you out with whatever issue you're having. Most questions can be answered on their "how can we help? " page.
FTX Founders and Team
The FTX.US exchange is operated by FTX Trading Ltd, a company registered in the Cayman Islands. The team behind FTX is led by CEO Sam Bankman-Fried, who also founded the algorithmic trading firm Alameda Research. Other members of the team include Chief Technology Officer Gary Wang and Chief Operating Officer Jonathan Hsu.
CEO – Sam Bankman-Fried
Sam Bankman-Fried is a serial entrepreneur and self-made billionaire who is currently the CEO of the cryptocurrency trading platform FTX. He is also the founder of Alameda Research, one of the largest cryptocurrency trading firms in the world. Bankman-Fried was born in New York City and raised in London. He graduated from the Massachusetts Institute of Technology with a degree in computer science.
After working as a software engineer at various startups, he decided to pursue his own entrepreneurial ventures. In 2017, he founded Alameda Research, which quickly became one of the most successful crypto trading firms. In 2019, he launched FTX, a cryptocurrency derivatives exchange that has gained immense popularity in the past year.
CTO – Gary Wang
Gary is the co-founder of FTX, a cryptocurrency derivatives exchange. Gary has a degree in Computer Science from Stanford University. Gary also worked as a software engineer at Google for six years. Gary is an active member of the cryptocurrency community and is a well-known developer in the space. Gary is also a frequent speaker at industry events.
Gary's work in the industry has been recognized by his peers and he has received numerous awards for his contributions. Gary is a strong advocate of the use of blockchain technology and believes that it has the potential to disrupt many industries. Gary's vision is to build a fair and transparent financial system that works for everyone.
COO – Jonathan Hsu
Jonathan Hsu is the Chief Operating Officer of FTX, a cryptocurrency derivatives exchange. Jonathan has over 10 years of experience in the financial technology industry. Prior to joining FTX, Jonathan was a Partner at various venture capital firms, including Khosla Ventures and Social Capital.
Jonathan has also worked as a software engineer at Google and as a management consultant at McKinsey & Company. Jonathan holds a BA in Computer Science from Harvard University and an MBA from Stanford Graduate School of Business.
FTX FAQ
Is FTX US safe?
It depends on what you mean by safe. FTX is a regulated exchange, which means that they are required to follow certain safety protocols. However, exchanges can still be hacked, so it's always important to take precautions, like using two-factor authentication and keeping your cryptocurrency in a wallet that you control.
FTX is one of the more popular exchanges and has a good reputation, but it's always important to do your own research before deciding where to buy or sell cryptocurrencies. There are a lot of scams out there, so it's important to be careful when choosing an exchange.
Is FTX a legit exchange?
There are a lot of different exchanges out there, and it can be hard to decide which one is the right fit for you. FTX is definitely a legitimate exchange, and they offer a variety of features that make them a popular choice among traders.
One of the things that sets FTX apart from other exchanges is their products and services. They offer a wide range of tokens and derivatives products that allow traders to bet on the future price movements of various cryptocurrencies. This makes FTX an ideal choice for more experienced traders who want to take advantage of sophisticated trading strategies.
Another thing that sets FTX apart is their customer service. They offer 24/7 support, so you can always get help when you need it
Can I use FTX in the US?
FTX is currently available in the United States, but not all states have been approved for use. You can check the list of supported states on the FTX website. If your state is not listed, you may still be able to use FTX if you are willing to go through a verification process.
Is FTX better than Coinbase?
It really depends on what you're looking for. FTX is a newer exchange that offers some unique features and benefits, while Coinbase is one of the largest and most well-established exchanges in the space. Ultimately, the best exchange for you will depend on your specific trading goals and requirements.
Closing Thoughts
All in all, FTX.US is a great crypto exchange that does what it says on the tin. The website is easy to navigate and use, and the customer service team is helpful and quick to respond. Trading fees are low, which is always a bonus, and there's a good range of coins available to trade. If you're looking for an easy-to-use crypto exchange with great customer service, FTX.US should definitely be at the top of your list! Have you used FTX.US? What did you think? Let us know in the comments below!